The Voice of the Community: News from NORD and its Member Organizations – January 2017
Preserving ACA Protections That Are Vitally Important to the Rare Disease Community
When the
Affordable Care Act
was first being drafted several years ago, NORD and our advocacy partners worked very hard to assure that provisions were included that were desperately needed by the rare disease community, such as:
· Healthcare coverage for people with pre-existing medical conditions
· Elimination of annual lifetime caps on health insurance
· Affordable options for all
Today, as various scenarios are being projected regarding repeal or replacement of the ACA, NORD and our partners will be working to assure that these important protections are not abandoned.
Anyone wishing to share information with NORD regarding their experiences, hopes or concerns related to the ACA may do so by posting comments
on the NORD blog
.
What's Happening in Your State for Rare Disease Day®?
Volunteer advocates across the US are coordinating legislative events at their state capitols to take place on or around Rare Disease Day®, which is observed on the last day of February each year.
Click here
to see if there's an advocacy event being organized in your state or learn how you can host an event. The main objective is to raise awareness among the public and legislators about rare diseases and their impact on patients' lives.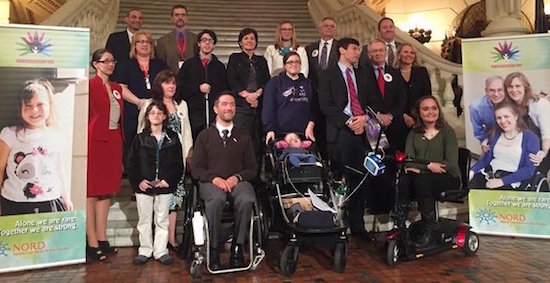 Free tools and resources are also
available here
for those organizing rare disease day events at schools, universities or hospitals. NORD will help promote awareness of these events if information
is submitted here
.
You Are Invited to Public Webinar on State Policy Report Card
Please join the NORD Rare Action Network team on Tuesday, January 24, 2017 at 3 pm EST for a webinar to take an in-depth look at the recently published 2016 state policy report card. Tim Boyd, associate director of state policy, will present on the findings in the report card and discuss what this means for 2017 advocacy initiatives across the US. There will be Q & A at the end of the presentation.
The webinar is open to the public.
Pre-registration
is required. The state policy report card can be
downloaded here
.
Running for Rare Team to Raise Funds for Undiagnosed in LA Marathon
The Running for Rare Team will run the Los Angeles Marathon on March 19, 2017 to raise funds to help undiagnosed patients through the NORD/Undiagnosed Diseases Network (UDN) Patient Assistance Program. The team is seeking additional runners, both for this marathon and for others on the schedule for 2017.
Each runner is paired with a rare disease patient partner for inspiration. NORD welcomes inquiries regarding joining the team as a runner or a patient partner. The team is composed of dedicated runners from around the world seeking to improve the lives of those living with rare diseases and, in particular, to help those who on a diagnostic odyssey.
Information about the team, upcoming marathons and how to submit an application to join as a runner or patient partner
is available here
.
AWaRDS Study Looks at Needs of Adults with Rare Disorders
Being conducted by researchers at Oregon State University in partnership with NORD, the Adults With Rare Disorders Support (AWaRDS) study is the first large-scale study of the information and psychosocial support needs of people living with rare disorders. The purpose is to assess these needs and identify similarities and differences across the spectrum of rare diseases. All adults living with rare disorders are invited to
complete the survey
.
NEWS FROM NORD MEMBER ORGANIZATIONS
AA & MDS International Foundation and PNH Research and Support Foundation Merge
These foundations, serving those affected by aplastic anemia, myelodysplastic syndromes and paroxysmal nocturnal hemoglobinuria, have finalized their merger, which was originally announced in November.
Additional information.
Applications Are Being Accepted for Scholarship for Students with Alagille Syndrome
The Alagille Syndrome Alliance has announced that applications are being accepted for Alaina Kaitlyn Hahn Celebratory Scholarship for students with Alagille syndrome (ALGS). Details are available
on the website.
APFED Plans Patient Education Conference
The American Partnership for Eosinophilic Disorders (APFED) will host its 15
th
annual Patient Education Conference on Eosinophilic Gastrointestinal Disorders July 7-8 in Greenville, SC.
Additional information
. In addition, May 15-20 is
National Eosinophil Awareness Week
.
Second APS Type 1 Symposium for Physicians and Families to be Held July 13-15
The APS (Autoimmune Polyglandular Syndrome) Type 1 Foundation has announced that a symposium for physicians and families will be held July 13-15 at Stony Brook University. Leading APS Type 1 clinicians and researchers from around the world, as well as affected individuals and families, are invited to attend.
Additional information
.
Spinal CSF Leak Foundation Updates Resources for Professionals and Patients
The first-ever Spinal CSF Leak Awareness Week will be observed February 26 to March 4. As that awareness event approaches, the Spinal CSF Leak Foundation has updated the information and resources on its website for patients and professionals regarding spinal cerebrospinal fluid leaks.
Visit the website.
AAMDSIF 2017 Research Grant Portal is Now Open
The AA MDS International Foundation has announced that its 2017 research grant portal is now open. Each year, the foundation's Medical Advisory Board reviews research proposals from new and established investigators in the topic areas of aplastic anemia, myelodysplastic syndromes and paroxysmal nocturnal hemoglobinuria.
Additional information.
February 12 is Deadline to Apply for Myelodysplastic Syndromes Young Investigator Grant
The MDS Foundation and Chairman Stephen Nimer, MD, are pleased to announce that applications are being accepted online for the
2017 Young Investigator Grant,
to be awarded to a prominent investigator 40 years of age or younger, for a proposal for basic research or clinical management of myelodysplastic syndromes. The one-year grant, in the amount of $25,000, would begin July 1.
A-T Children's Project is Distributing New Handbook
The A-T Children's Project is distributing a new, 16-page Caring for People with Ataxia-Telangiectasia handbook. Topics include neurology, managing lung health,
Cure PSP Family Conference to Take Place March 17-18
Cure PSP (Progressive Supranuclear Palsy) will host a
Southwest Family Conference
March 17-18 in Phoenix AZ.
January 31 is Deadline for Galactosemia Foundation Research Proposals
The Galactosemia Foundation encourages and funds research to increase understanding of galactosemia and/or help families living with this rare condition. Proposals are due January 31 and decisions will be announced April 15 for 2017 research grants.
Additional information
.
VHL Alliance Creates Emergency Card for Members to Carry
Individuals living with VHL (Von Hippel-Lindau disease) are predisposed to having pheochromocytomas, which can cause life-threatening spikes in blood pressure. The VHL Alliance has created an emergency business card for patients to carry with important information related to this for healthcare providers.
Learn more about VHL and the VHL Alliance
.